This article is about the Bungo Stray Dogs DEAD APPLE Film. For the manga, see Bungo Stray Dogs DEAD APPLE (Manga).
Bungo Stray Dogs: DEAD APPLE (文豪ストレイドッグス DEAD APPLE,, Bungō Sutorei Doggusu Deddo Appuru?) is a 2018 Japanese animated film produced by Bones.[1] It is directed by Takuya Igarashi and written by Kafka Asagiri and Yōji Enokido. It is based on the manga Bungo Stray Dogs written by Asagiri and illustrated by Sango Harukawa. Taking place after events of the second season of the anime television series, a group of detectives learns of a string of apparent suicide cases that have been happening to people with supernatural powers.
The adaptation features the anime adaptation's original cast and staff. GRANRODEO sings its opening, 'Deadly Drive', and Luck Life its ending, "Bokura". [2]
It releases on DVD and Blu-ray on November 28, 2018.[3] Crunchyroll released a stream of the movie for premium users on September 01, 2018. It becomes available for free users on November 01, 2018. Funimation streamed the English dub on June 21, 2019.[4]
It was also distributed by German, Russian, Spanish and Portuguese companies.
Synopsis
Power users around the world are suddenly committing suicide one after another, in all cases after a strange fog appears at the scene. At a request from Ango Sakaguchi, the Armed Detective Agency head out to investigate Tatsuhiko Shibusawa, a power user who calls himself "collector," and a man suspected of being tied to the incident.
Summary
The night before the bloody 88-day-long Dragon's Head Conflict ends, Dazai and Chūya from the Port Mafia confront a white-haired man. Chūya demands him to return his comrades, only for the man to quip that they have killed themselves. Ridden with fury, Chūya activates Corruption and wreaks havoc, while an ushanka-wearing man amusingly watches nearby.
Six years later at present, Kunikida briefs the Agency (sans Dazai) on ability users all over the world killed by their own powers after a mysterious fog emerges, recognized to be serial suicides. Hence, the Special Division for Unusual Powers requests the Agency to capture Tatsuhiko Shibusawa, a suspected man related to the case. At night, Kunikida and Tanizaki head out to meet with a Special Division informant, but they soon find the man dead. They also notice an apple pierced with a knife at the scene.
In Bar Lupin, Dazai chats with Oda by himself about the recent trend of apple suicide. Oda indulges his typical chat, and Dazai praises Oda's interesting thinking as always. Dazai soon takes a pill and leaves an apple pierced with a knife on the counter. Outside, Ango suspects Dazai for bringing Shibusawa to Yokohama, just as the latter generates the fog from behind. Atsushi dreams of the orphanage staff spiting him, behind them appearing a mysterious door where fog emanates. Later, he and Kyōka find the streets engulfed in the mysterious fog, where almost everyone has vanished. They also realize that they cannot activate their abilities.
Along the way, the two find the wounded Kunikida, and they take shelter nearby. While Demon Snow chases after them, Kunikida tells the two that ability users do not commit suicide, but are rather killed by their own abilities. They soon arrive in the ransacked Agency and communicate with Ango, who directs them to Mukurotoride where Shibusawa has been located and requests them to eliminate him. As Ango informs them that Dazai seems to be with Shibusawa, he implores them to save Yokohama, before getting cut off. Ango then orders an agent to summon Ability User Number A5158, while Kunikida battles his ability to let Atsushi and Kyōka get away. In Mukurotoride, Dazai, Shibusawa, and Fyodor are revealed to be collaborators, albeit having mutual mistrust for one another.
As Demon Snow catches up to Atsushi and Kyōka, Akutagawa gets shoved at them by his ability, and the three are cornered by their respective powers. While fleeing to an emergency passage, Akutagawa informs them that defeating their abilities is the only way for their powers to return. Though their ideas initially conflict with one another, the three end up going through the passage altogether. Shibusawa shows Dazai and Fyodor his collection of various crystallized abilities thanks to information he obtained from Fyodor. Nonetheless, he laments not having the "ultimate ability" in his collection.
Atsushi, Kyōka, and Akutagawa arrive back on the streets through the passage, where they battle their abilities once more. Atsushi surmises that destroying the jewel embedded in their abilities may defeat them, which the three manage to do. Kyōka and Akutagawa retrieve their powers, but Atsushi does not. Akutagawa and Kyōka hint how his ability does not return due to his strained relation with it, after which they head to the enemy's base nearby. A5158, who turns out to be Chūya, arrives per Ango's request. Though he chides the Special Division for covering up Shibusawa's crimes in the Dragon's Head Conflict after their plan to use him in ending the dispute backfired, he accepts the job with Ango's life to pay in return.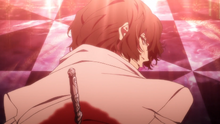 With Shibusawa not around, Dazai and Fyodor reveal their alliance with each other. They come up with a way to starve the fog of its energy, which Dazai manages to initiate with his nullification ability. Having anticipated this, Shibusawa stabs him with a poisoned knife and acquires his power. To his dismay, Dazai's disabling ability produces a singularity with the merging ability.
The door appears to Atsushi as Fyodor tells Shibusawa that his lost memories will never return. Slashing through Shibusawa to make him recall his death, Atsushi opens the door and sees what happened in the past: when Shibusawa tried to force out Beast Beneath the Moonlight — the "ultimate ability" — from him, the child transformed into the tiger and clawed through Shibusawa's skull, killing him. Upon his death, Shibusawa inherited his own ability when he parted with his body, albeit at the cost of his memories.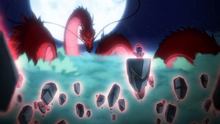 As Fyodor reckons how his ability never left him in the fog because crime and punishment complement each other, a dragon emerges from the abilities made incarnate. Chūya arrives upon Mukurotoride to subdue the target, though Ango worries for Chūya having to use Corruption without Dazai. Chūya assures him that Dazai is still inside, before hanging up. As he battles the dragon, he manages to enter its core, where he finds Dazai and punches him, revealing that he has previously taken an antidote pill. Dazai nullifies Corruption, rendering Chūya debilitated from its effects. Nonetheless, the fog still has not lifted, and Fyodor craftily revives Shibusawa by turning him into the singularity.
The fog spreads, estimated to engulf the globe within 168 minutes. The Order of the Clock Tower, an English gifted organization, contacts the Special Division that they have deployed an incineration-type ability user to destroy Yokohama to prevent the fog's spread. Meanwhile, Fukuzawa and Mori retrieve their powers by defeating each other's abilities. Akutagawa and Kyōka confront the much stronger dragon-hybrid Shibusawa, while Atsushi makes amends with the tiger and gets back his ability.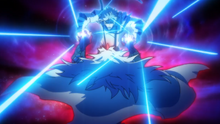 With their combined efforts, especially with Atsushi's tiger ability that Shibusawa considers to be the antithesis of all abilities, Shibusawa dies permanently. The Order of the Clock Tower aborts their attack, while Ranpo, realizing and accepting that he is a non-ability user, returns back from getting vanished in the fog, as do the rest of the Agency and everyone else.
In the epilogue, Ango is relieved that no civilians were harmed, though he and his comrades have only begun their task of covering up the large-scale incident. In their base, Mori praises Chūya for his contribution in returning the peace of Yokohama. Though he was entertained by recent events, Fyodor states how he still needs the book resting within Yokohama for his grand malevolent scheme. With the Agency back in business, Atsushi and Kyōka head out of headquarters for an assignment.
Cast
The main cast from the anime will remain with Kazuya Nakai starring as Tatsuhiko Shibusawa.
Staff
Japanese Staff
Director: Takuya Igarashi
Script: Kafka Asagiri, Yōji Enokido
Music: Taku Iwasaki
Original creator: Kafka Asagiri, Sango Harukawa
Character Design: Nobuhiro Arai
Art Director: Yumiko Kondou
Chief Animation Director: Nobuhiro Arai
Mechanical design: Fumihiro Katagai
Sound Director: Kazuhiro Wakabayashi
Director of Photography: Tsuyoshi Kanbayashi
Assistant Art Director: Hiroko Tanabe (Kusanagi)
Color Key: Yukari Goto
Background Art: Kusanagi
Background Art Assistance: Nam Hai
Editing: Shigeru Nishiyama
Key Animation: Hiroyuki Takashima, Shōhei Nishijima
Theme Song Performance: GRANRODEO, Luck Life
Reception
The film opened in 74 theatres and earned ¥78,002,000 (about US$740,000) in its first official weekend (Saturday–Sunday), ranking No. 7. In total, it has of 86,688,808 yen (about US$820,900).[5] In its second weekend, it dropped to No. 9, earning ¥85,031,700 (about US$799,200) from Friday to Sunday.[6] It grossed a total of ¥550 million ($4.98 million) at the Japanese box office.[7] The home media volumes of the film sold 13,125 blu-rays and 10,599 DVDs in their release weeks,[8] and sold a total of 14,086 blu-rays and 12,269 DVDs in Japan by May 2019.[9]
In the "Newtype Anime Awards" from 2018, the film won the category "Best Work (Theatrical Screening)". Chūya Nakahara, Osamu Dazai and Kyōka Izumi also appeared in the character polls. The audio was popular with "Deadly Drive" earning second place behind "Reason!!" while Taku Iwasaki was recognized with the award for "best soundtrack". Takuya Igarashi received the award for best director while Yoji Enokido was second in "Best Screenplay".[10] The film was adapted into a manga series published in two volumes by Kadokawa during 2018.[11] [12]
Critics praised the film but were divided in terms of what the audience would enjoy it more. Manga Tokyo recommended the film for fans of Bungo Stray Dogs due to the return of its characters and the commentary of tragedy explored around the main characters and antagonists.[13] Anime News Network praised the main film for its fight scenes and the emotional character arcs but criticized the handling of some subplots related to Shibusawa.[14] Despite difficulties for newcomers to this film, Retorno Anime enjoyed the handling of Osamu Dazai and praised the film's soundtrack. Atomix agreed that fans will enjoy it more than newcomers and praised the multiple character arcs Bones provided, but still felt the climax could have been executed better. Another area that received major acclaim by Atomix was the animation in the first half of the film.[15] Manga Tokyo also liked the animation displayed in the character designs and fight scenes.
Gallery
Anime Character Designs
Promotional Videos
References
External Links
Community content is available under
CC-BY-SA
unless otherwise noted.