WELCOME TO THE BUNGO STRAY DOGS WIKI

| | |
| --- | --- |
| | Welcome to the Bungo Stray Dogs Wiki, a wiki dedicated to the Bungo Stray Dogs manga written by Kafka Asagiri and the light novel and anime produced from them. This is a wiki where everyone can help out by adding and editing articles! The wiki currently has had 36,574 Edits over 791 Articles with 4,326 Images and has been expanding since October 24, 2016. Please be sure to review the Policy page before contributing to the Bungo Stray Dogs Wiki. |
STORY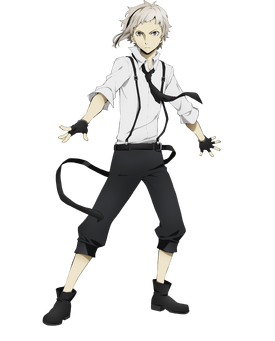 Nakajima Atsushi
was kicked out of his orphanage, and now he has no place to go and no food. While he is standing by a river, on the brink of starvation, he rescues a man who whimsically attempting suicide. That man is
Dazai Osamu
, and he and his partner
Kunikida
are members of a very special
detective agency
. They have supernatural powers and deal with cases that are too dangerous for the police or the military. They're tracking down a tiger that has appeared in the area recently, around the time Atsushi came to the area. The tiger seems to have a connection to Atsushi, and by the time the case is solved, it is clear that Atsushi's future will involve much more of Dazai and the rest of the detectives!
LATEST CHAPTER
Chapter 87 - HERO VS. CRIMINAL Part 4
Release Date: October 02, 2020
BEAST Chapter 9.2 - Encounter
<Second Part>
Release Date: October 26, 2020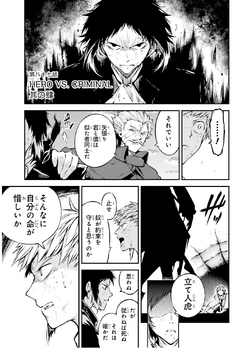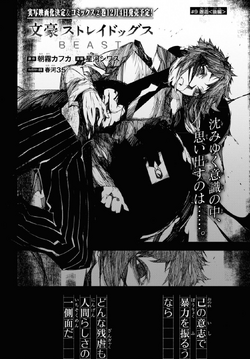 HELPING OUT
Create a new Article, just enter the title in the box below.
FEATURED QUOTE
""That's why I sealed both hands. If I do that, someday the time will come when I'll lose. The time when I'm not enjoying the fight and am frantically defending myself……if I do that, I thought some attachment might well up in me. To the me who's no more than a frame, to the me who is not master of this body.""

— Chūya Nakahara, to Arthur Rimbaud
AFFILIATIONS
If you would like to become an affiliate of the Bungo Stray Dogs Wiki, contact us.
Community content is available under
CC-BY-SA
unless otherwise noted.