Fitzgerald Rising (フィッツジェラルド・ライジング,, Fittsujerarudo Raijingu?) is the 32nd episode of Bungo Stray Dogs anime series. It aired on May 24, 2019.
Synopsis
Louisa reunites with Fitzgerald, but he's not quite the man he used to be.
Summary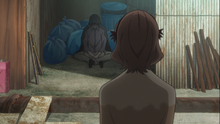 Louisa writes a letter to her parents about her journey to a distant country's slums as she looks for a certain person. As she flees from strangers in the settlement, she encounters someone asking for alms. She agrees to do so if he — the ragged Francis — would listen to her wish. He acquiesces, after which she asks him to give some orders once again.
Despite the Guild's analysts believing that Francis would not have survived his fall from Moby Dick, Louisa tells him how she clung to the hope that he was still alive. She asks him to return, but to no avail. He reasons out that he is but a man who has been stripped of all his fortune and status, deeming himself a dead man who has failed to save his wife.
At Café Uzumaki, Atsushi commends Lucy's coffee, though Kyōka thinks of it as average. Atsushi asks her if there was someone in the Guild who made coffee, at which Lucy remembers Louisa as a frequent coffee drinker. As Atsushi remarks how they must have been good friends, Lucy tells him otherwise due to Louisa's shyness to almost everyone save for Francis. She also thinks that Louisa may have never used her own ability for herself, possibly because she does not care too much about herself.
Louisa tries to persuade Francis that his value is not dictated by his money or status but his leadership. She believes that his orders give her purpose, but Francis asks her to stop and walks away. As Louisa assures him that she and his wife shall await him, Francis tells her how his $500,000 wedding ring was spent by his ability, which fortified his body and made him survive falling from Moby Dick. He then orders Louisa never to show herself to him again. Left alone, Louisa faces members of the Zoopark.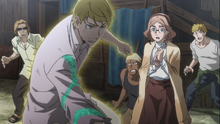 After being flushed out by the Armed Detective Agency, they ask the Guild's strategist to divulge where the Guild's fortune is. She denies its existence, but the boss threatens to take away her nail if she continues to resist. With no goals left, she says she does not care anymore. The boss merely decides to shoot her, but Francis punches him. He asks for Louisa's most valuable possession to take them down in exchange for granting her wish, to which she gives him her everything. In the end, Francis defeats the gang.
He leaves with her to start anew, beginning with revamping his appearance by going shopping with Louisa for some new clothes and accessories. To achieve his goal of finding the book sealed in Yokohama to save his wife, he plans to purchase the Special Division for Unusual Powers and the Ministry of Internal Affairs, amounting to about $50 billion. Francis becomes thrilled at the idea of two wanted ability users with no capital setting off to such venture and announces the birth of the Renewed Guild.
Elsewhere, Fyodor assures his comrade that the preparations shall soon be completed. Meanwhile, Louisa escorts Francis to their "new" headquarters: a single room in a manor. As she uses her ability to slow down time and devise a new plan, Francis spends time with their neighbor next door.
A man contemplates his penultimate drink before committing suicide, but he is interrupted by Francis who urges him to ignore him. He recognizes T. J. Eckleburg, the genius engineer who killed his own colleague, but Eckleburg denies his claim despite the evidence shown through his invention, a facial recognition system known as Eyes of God. Francis assures him that he shall prove the man's innocence if he gives him the source code to Eyes of God. In return, Francis shall also pay $200,000 for the patent acquisition.
Later, Louisa has set an appointment with the firm where Eckleburg worked after Francis has gone on an indiscriminate shopping spree. Due to Francis' shopping instincts gone poor, Louisa thinks that she may have to return his purchases.
Francis and Louisa meet chairman Tom Buchanan of Manhasset Security, where Francis declares that he shall make his former employee Eckleburg innocent for a price of $100,000. Buchanan refuses, insisting on Eckleburg's guilt after being recognized by Eyes of God. Disgusted at the chairman's treatment for his employee, Francis takes his leave; he then asks Louisa to investigate the case. As Louisa tells him she is not a detective, Francis places his trust on her to find someone who can.
At the Agency, Poe asks for Ranpo and challenges him to solve a riddle, which is the Eckleburg case. As Poe hands him the pertinent documents, Ranpo deduces that the culprit is the chairman.
At court, Eckleburg is believed to have murdered his colleague. During recess, Francis names Buchanan as the murderer and, as the detective figured, explains how he replaced his face with Eckleburg's in the footage through a secret code. In exchange for his silence, Francis asks Buchanan to pay him $400,000. In the end, Buchanan writes a check of $400,000 and hands it to Francis.
As the jury finds Eckleburg guilty of murder, Francis barges in and objects. He divulges Buchanan's confession earlier through a voice recorder he purchased, as well as the $400,000 check he wrote. As he leaves, Buchanan chases and threatens him, only for Francis to inform him of his firm's plummeting stocks following the chairman's murder. Besides, Francis has already shorted the firm's stocks for $400 million. Buchanan tries to punch him, but Francis easily retaliates with his ability.
In the aftermath, Eckleburg is back with his job and greets Louisa along the corridor of the firm. The new chairman, Francis, meets with the engineer and asserts how he has bought the company after buying the stocks at rock-bottom prices. Most importantly, he now acquires Eyes of God. As he reads the news, Francis immediately heads out to a special sale.
Characters in Order of Appearance
Manga and Anime Differences
References
Community content is available under
CC-BY-SA
unless otherwise noted.