Rashomon (羅生門,, Rashōmon?) is the ability of Ryunosuke Akutagawa.[1]
Description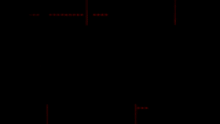 Rashomon is summoned from, but not limited to, Akutagawa's coat, and any other garments he wears. It transforms into an omnivorous, shadow-like black beast. Rashōmon has been shown to be completely adaptable and can switch between offense and defense to suit Akutagawa's needs.
It takes on a form of a shadow-like beast made up of what seems to be dark matter, drawn from inter-dimensional or other similar sources. It can consume anything, even space itself. Once space is split, guns or fire cannot hurt Akutagawa. However, the space rupturing ability needs time to activate, so taking advantage of this can give the enemy a window of opportunity to attack. It can be used for both offense and defense.
Types
Appearances
Manga Appearances
Chapters in which the ability appeared/used
Anime Appearances
Episodes in which the ability appeared/used
Manga Appearances
Chapters in which the ability appeared/used
Derivation
Rashomon is based on the real-life Ryunosuke Akutagawa's Rashomon, a short story based on tales from the Konjaku Monogatarishū. The story revolves around a destitute man, who ponders whether to resort to theft in order to survive or to starve to death.[9]
Gallery
References
Community content is available under
CC-BY-SA
unless otherwise noted.